JAPAN TOUR - NOVEMBER 2011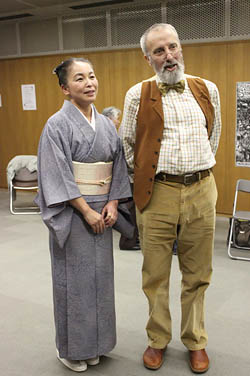 Lakeland Storyteller Taffy Tomas MBE has just returned from his successful first performing tour of Japan as guest of the Japanese Association of Storytellers and the Japan Storytelling Network. It's a slightly sad story that led to Taffy's happy two week visit.
In 2006, 75-year-old Miki Sakurai, director of the Japanese Association of Storytellers, brought a party of more than twenty members to spend a day at Taffy & Chrissy's Storyteller's Garden in Grasmere. As the smiling party boarded their bus to leave the Lakes, Miki invited Taffy & Chrissy to pay a return visit, bringing Taffy's rich collection of tales to a larger audience in Japan. Sadly, the following year, Miki Sakurai was diagnosed with cancer, an illness which despite a hard fight she failed to survive. In the last two weeks of her life in 2009 she telephoned members of her committee urging them to keep the promise to Taffy & Chrissy.
Taffy commented "the whole of our tour was therefore dedicated to the memory of Miki Sakurai".
During the tour Taffy performed nine times, reaching audiences of more than 1,000 Japanese folk in community centres, schools, universities, theatres and private houses. Events were located in Sakura (Chiba province), Matsumoto City (Nagano), Seishin University (Tokyo), and Kiryu (Gunma province). He also featured in their annual "Tellabration" festival in Tokyo.
On his return, the first Laureate Storyteller landed straight into Christmas preparations, building towards Christmas in the Storyteller's Garden, Grasmere, on 18th December at 7.30pm and completing the manuscript for his new book, "Folk Tales of Cumbria" to be published by The History Press in spring 2012.